Graphs Gathered from Blogs (July 2005)
Here is a large collection of charts and figures. The data are generally expressed graphically and were gathered from various blogs during the month. Below each graph or chart are the name of the blog and links back to the originating post. The organization is chronological by
blog.

Please note that in many cases, the graphs will be much clearer at the source due to different scaling and because there are often larger and clearer versions available. I forced all graphs into one format and in some cases that affected the clarity.
ANGRY BEAR


Is R&D Exuberance Rational?
Angry Bear
7/02/05





Is R&D Exuberance Rational?
Angry Bear
7/02/05





Are We Near Full Employment?
Angry Bear
7/06/05





Are We Near Full Employment?
Angry Bear
7/06/05





Are We Near Full Employment?
Angry Bear
7/06/05





James Hamilton on the Decline in the Employment-Population Ratio
Angry Bear
7/10/05





James Hamilton on the Decline in the Employment-Population Ratio
Angry Bear
7/10/05





Help Wanted: Real Estate Agents
Angry Bear
7/10/05





The Laffer Curve: Thoma v. Luskin
Angry Bear
7/12/05






Measuring Inflation: The Difficulties Posed by Housing
Angry Bear
7/12/05





Measuring Inflation: The Difficulties Posed by Housing
Angry Bear
7/12/05






Budget Nonsense from the White House
Angry Bear
7/13/05






Debunking the White House's Budget Myths
Angry Bear
7/13/05






Debunking the White House's Budget Myths
Angry Bear
7/13/05






Debunking the White House's Budget Myths
Angry Bear
7/13/05





Supply-side Economics and Recent Real GDP Growth
Angry Bear
7/14/05





Falling Inflation, Part II
Angry Bear
7/15/05





More Supply-side Spin from Kevin Hassett
Angry Bear
7/19/05





Keeping an Eye on Interest Rates
Angry Bear
7/20/05





Interest Rates and the Renminbi Revaluation
Angry Bear
7/25/05





What Conundrum?
Angry Bear
7/25/05





What Conundrum?
Angry Bear
7/25/05





Labor Compensation as a Share of National Income
Angry Bear
7/25/05





Regulatory Substitutes for Housing Bubble
Angry Bear
7/31/05
CALCULATED RISK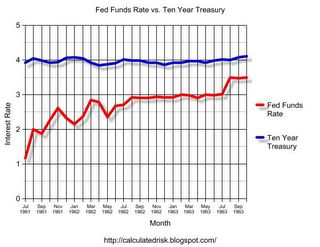 A Unique Conundrum?
Calculated Risk
7/04/05





Budget Deficit: $581 Billion Year over Year
Calculated Risk
7/05/05





Bank of England to Lower Rates?
Calculated Risk
7/06/05





The Real FED Funds Rate
Calculated Risk
7/07/05





US Trade Deficit: $55.3 Billion for May
Calculated Risk
7/13/05





Deficit Improvement?
Calculated Risk
7/14/05





Housing: Storm Clouds
Calculated Risk
7/22/05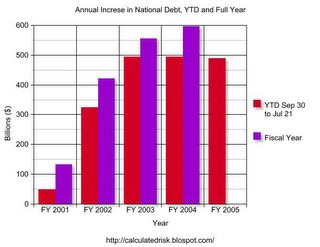 Premature Celebration
Calculated Risk
7/24/05





Contract Oil Prices
Calculated Risk
7/25/05





June: Record New Home Sales
Calculated Risk
7/27/05





June: Record New Home Sales
Calculated Risk
7/27/05





June: Record New Home Sales
Calculated Risk
7/27/05





Housing Mortgage Trends
Calculated Risk
7/28/05

Economist's View




Fed Governor Kohn Discusses Risk Premiums and Monetary Policy
Economist's View
7/22/05

Brad DeLong



Laugher Curve
Brad DeLong
7/12/05





Four Out of Five Indicators Say the Job Market Really Is Weak
Brad DeLong
7/12/05





The Law of Large Numbers
Brad DeLong
7/25/05





The Law of Large Numbers
Brad DeLong
7/25/05





How Many People Should Be Working in America?
Brad DeLong
7/29/05





How Many People Should Be Working in America?
Brad DeLong
7/29/05





How Many People Should Be Working in America?
Brad DeLong
7/29/05





How Many People Should Be Working in America?
Brad DeLong
7/29/05





Wages and Salaries as a Share of Net Domestic Product
Brad DeLong
7/30/05





Wages and Salaries as a Share of Net Domestic Product
Brad DeLong
7/30/05
Macroblog


Live8: Answers For Africa?
Macroblog
7/03/05





Fed Funds Probabilities: The Market Has A Change Of Heart
Macroblog
7/05/05





Where Are Oil Prices Heading?
Macroblog
7/06/05





This Week's Funds Rate Probabilities: The Bet On Another 50 Jumps Again
Macroblog
7/11/05





Is The Yield Spread Too Low?
Macroblog
7/12/05





Is The Yield Spread Too Low?
Macroblog
7/12/05





Is The Yield Spread Too Low?
Macroblog
7/12/05





Is The Yield Spread Too Low?
Macroblog
7/12/05





Is The Yield Spread Too Low?
Macroblog
7/12/05





No Sleep 'Till 3.75
Macroblog
7/18/05





Are American Consumers Responsible For The Large Trade Deficits?
Macroblog
7/20/05





Fed Funds Probabilities: The Early November Results Are In
Macroblog
7/25/05





Fed Funds Probabilities: The Early November Results Are In
Macroblog
7/25/05





Are American Consumers Responsible For The Large Trade Deficits? Some Further Thoughts
Macroblog
7/26/05





Are American Consumers Responsible For The Large Trade Deficits? Some Further Thoughts
Macroblog
7/26/05





Are American Consumers Responsible For The Large Trade Deficits? Some Further Thoughts
Macroblog
7/26/05





The Leading Indicator Tea Leaves Say Measured Growth Ahead
Macroblog
7/27/05



Econbrowser



Where did that huge trade deficit come from?
Econbrowser
7/03/05





Where did that huge trade deficit come from?
Econbrowser
7/03/05





Where did that huge trade deficit come from?
Econbrowser
7/03/05





$100 a barrel-- what are the odds?
Econbrowser
7/05/05





How high will the Fed push interest rates?
Econbrowser
7/06/05





Are the new employment figures really that bad?
Econbrowser
7/08/05





Are the new employment figures really that bad?
Econbrowser
7/08/05





The puzzle of long-term yields
Econbrowser
7/13/05





The puzzle of long-term yields
Econbrowser
7/13/05





The puzzle of long-term yields
Econbrowser
7/13/05





Should we worry about all that debt held by foreigners?
Econbrowser
7/16/05





Fact-checking the fact-checkers
Econbrowser
7/18/05





Unwinding the deficit spin
Econbrowser
7/21/05





Unwinding the deficit spin
Econbrowser
7/21/05





How many people should be working in America?
Econbrowser
7/24/05





How many people should be working in America?
Econbrowser
7/24/05





How many people should be working in America?
Econbrowser
7/24/05





New GDP data and recession probabilities
Econbrowser
7/29/05





Which came first: the savings chicken or the deficit egg?
Econbrowser
7/29/05





Which came first: the savings chicken or the deficit egg?
Econbrowser
7/29/05



The Big Picture



Terror Attack in London
The Big Picture
7/07/05





Post-Terror Market Responses
The Big Picture
7/07/05





More on Post-Terror Market Responses
The Big Picture
7/08/05





How Markets React and Recover
The Big Picture
7/08/05





How Markets React and Recover
The Big Picture
7/08/05





Real Estate Drives U.S. Economy
The Big Picture
7/10/05





Small Cap Value vs Large Cap Growth
The Big Picture
7/10/05





Unemployment, by County & City
The Big Picture
7/11/05





Unemployment, by County & City
The Big Picture
7/11/05





Chart of the Week: Nasdaq, 1999 to 2005
The Big Picture
7/11/05





Bush or Blair?
The Big Picture
7/12/05





Stocks Stand Up to Terror
The Big Picture
7/12/05





Wages & Inflation: 20 years
The Big Picture
7/13/05





Wages & Inflation: 5 years
The Big Picture
7/13/05





Wages & Inflation: 5 years
The Big Picture
7/13/05





Wages & Inflation: 5 years
Personal Income Quality Improving?
7/14/05





Wages & Inflation: 5 years
FreakEconomics of Smoking
7/14/05





The Fly in the Martini
The Big Picture
7/16/05





The Oil Uproar That Isn't
The Big Picture
7/16/05





Oil & Market Correlation, Thunderhorse
The Big Picture
7/17/05





Minor Metals
The Big Picture
7/20/05





Will the US Economy Become a Victim of the Iraq War?
The Big Picture
7/21/05





Vulnerable Mortgages and the Depegging of the Chinese Yuan-
The Big Picture
7/22/05





Atypical Business Cycle Recovery
The Big Picture
7/22/05





Wages & Personal Income
The Big Picture
7/25/05





Fed and Markets
The Big Picture
7/27/05





Income Lag? Blame China
The Big Picture
7/30/05





Income Lag? Blame China
The Big Picture
7/30/05



Knobboy



More Pension Defaults For The PBGC Would Clearly Be Negative
The Big Picture
7/21/05